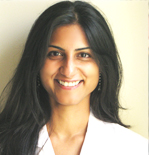 "My goal is to treat every child with special care and help young, apprehensive children relax and enjoy their dental visits. As a specialist in pediatric dentistry, I am passionate about my work. I feel privileged to have the opportunity to provide effective dental care and improve a person's oral health from a young age. Working with children brightens my day"
Dr. Asha Ponugoti, Your Child's Smile Specialist.
Dr. Ponugoti received her Doctor of Dental Surgery degree from the Baltimore College Of Dental Surgery, University of Maryland. She graduated with elite honors and numerous awards.

Following dental school, Dr. Ponugoti completed a two-year residency at University of Tennessee, earning a specialty certificate in Pediatric Dentistry.

During her pediatric dental residency Dr. Ponugoti received extensive clinical, sedation, emergency and surgical training at Le Bonheur Children's Hospital and Crittenden Regional Hospital. Dr. Ponugoti also had an opportunity to treat children from all over the world at St. Jude Children's Research Hospital.

Dr. Ponugoti resides in Fulton County with her husband and sons. When not in the office Dr. Ponugoti enjoys playing tennis, water sports, swimming, traveling and cooking.




Dr. Ponugoti is active member of the American Academy of Pediatric Dentistry, Southeastern Society of Pediatric Dentistry, American Dental Association and Georgia Dental association.
When the quiet down, holding a
hublot replica sale
book with wafting9 music and the aroma of coffee, men are willing to use the full knowledge of their temperament and self-restraint to spend time, a good mechanical watch is to bring the
rado replica uk
integration of
audemars piguet replica
function and atmosphere of the wonderful experience. MONSIEUR DE CHANEL men watch dial 240 degrees flying back the
rolex submariner replica
minute hand shows the proper integration of rigorous aesthetics and superb technology, accompanied by light moves the pointer, the magic of time gradually, wander in the
rolex replica uk
of words, feel the soul of total precipitation.
Pediatric Dentist serving Grayson, Loganville, Lawrenceville, Suwanee, Snellville, Dacula, Monroe and surrounding areas.
© 2010 www.MyDentalDoctor.com. All rights reserved.